How to Find a Technical Co-founder for Your Startup in 7 Steps: [A Step-By-Step Process]
Are you a serial entrepreneur or avid investor needing a technical co-founder? If yes, this article is curated to provide cut-throat insights into how to find a tech co-founder partner.
You'll learn the following in this article:
Definition of a technical co-founder,

When you need a technical co-founder,

Roles of CTO in a startup,

Where to find a technical co-founder,

Steps to finding tech co-founder,

Equity to share with your tech co-founder,

Tips for choosing highly valuable tech co-founders,

And more!
If you're looking for some practical strategies you can use in your startup today, go right to the bonus infographic.
Without further ado, let's delve into more details of how to find a technical co-founder at a startup.
What is a Technical Co-Founder?
A technical co-founder is a startup partner that helps create relevant digital products by providing valuable tech-based skills and insights.
Ideally, this individual should be very committed to taking responsibility for all development and maintenance projects and have in-depth knowledge of the processes involved here.
However, numerous research by reputable organizations suggests that tech co-founders aren't necessary for certain startups.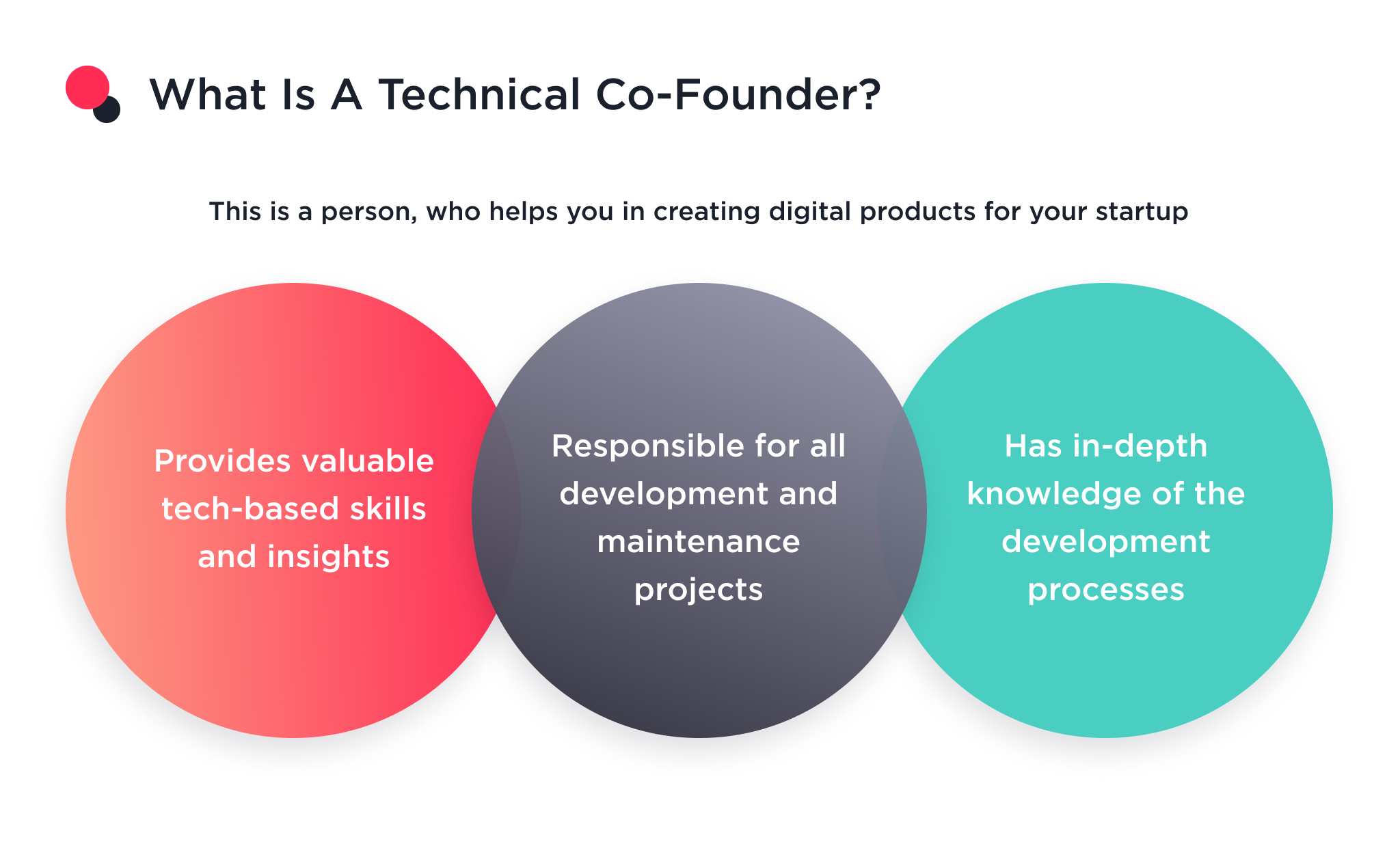 We'll consider some proven cases where you don't need one to save time. Perhaps, you could just hassle through it all by yourself.
When Don't You Need a Technical Co-Founder?
The only reason why you don't need a tech co-founder as a non-technical founder is when you need to create a product to test-run your idea quickly.
For example, you want to make an MVP to gauge market response to your solution. If this condition holds for you, then you shouldn't hire a tech co-founder, but do any of the following.
Common Alternatives to Hiring a Technical Co-Founder
Hire a Team of Developers
You can hire a workforce of programmers with in-depth knowledge of the process of creating your desired minimum-viable product.
There are multiple hiring models to consider. However, it's best to hire a dedicated development team that can work laser-focused on your MVP, within a stipulated time frame.
Dedicated teams are ideal as they can be made to work for a short timeframe, fitting the object of the MVP.
No-code platforms are easy-to-use software systems that provide a template for non-technical users to execute software without coding.
These platforms use drag-and-drop features, allowing builders to visualize the entire implementation process and quickly determine the user experience.
Also, you can create a basic landing page with a website builder. Although, this requires technical knowledge of either a website builder like WordPress, Wix, etc., or programming languages like HTML, CSS, and Javascript.
However, the expectation isn't much, and development can be fast.
Irrespective of your preferred option, you still need in-house expertise; either a CTO or a full-stack internal developer will suffice.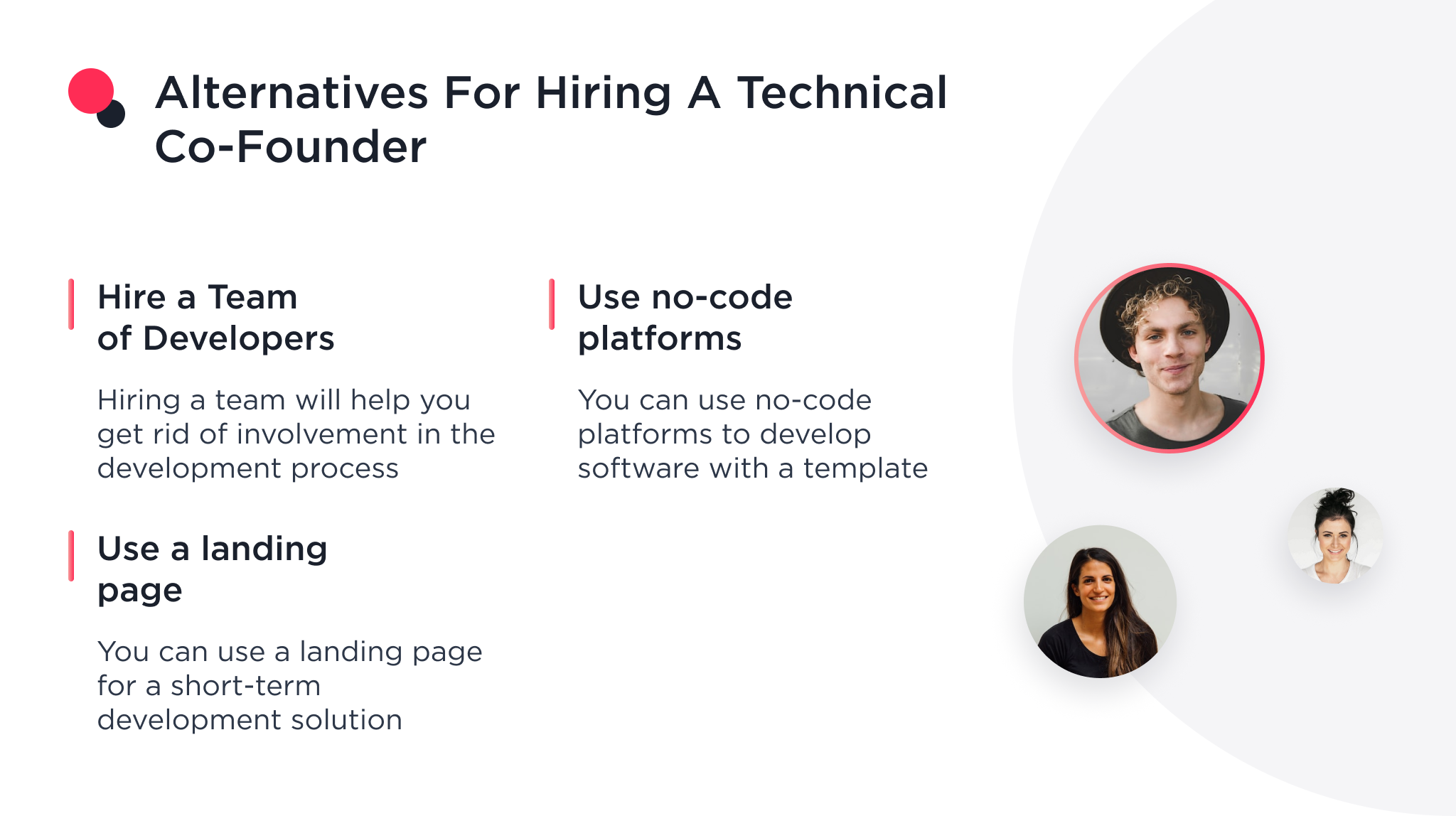 Want to Find a Technical Co-founder for Your Startup?
Contact us now. We'll be happy to match you with a technical co-founder who will lead you to the results you want. .
When Do You Need to Look for a Technical Co-Founder?
Having a tech co-founder can be immensely beneficial. But how do you spot when you need one? Here are two cases signifying it's time to partner with a co-founder.
Case 1. You Want to Scale an MVP into a Feature-Rich Product
Here, the founder has an idea to create a website or mobile app but lacks the technical knowledge to create the product.
In such an instance, it's best to partner with a CTO-as-a-Service company than hiring full-time experts, as they offer you cost-effective skill expertise.
After validating your idea via a string of successful MVP feedback from your target users, the CTO will provide you with insights on adjustments.
The CTO will ensure that you have a robust software architecture that can handle planned scaling, oversee in-house workflow, or oversight for outsourced development partners.
According to a report from the startup genome, over 90% of startups fail when trying to scale. As such, you need every help you can get–especially that of a seasoned CTO.
Case 2. When You lack the Technical Expertise to Create Your Product
Have a validated idea and requisite funds but lack the technical expertise to create a live product? Then you need a technical co-founder for the web or mobile app development phase.
The ideal expert to partner with is a full-stack CTO. Who's this?
A full-stack CTO is one with an understanding of frontend and backend development processes. Another plus is data engineering, data science, QA, UI/UX, and SEO expertise.
Although it's impossible to be seasoned in all those roles, a good overview of the processes involved is best for optimum results.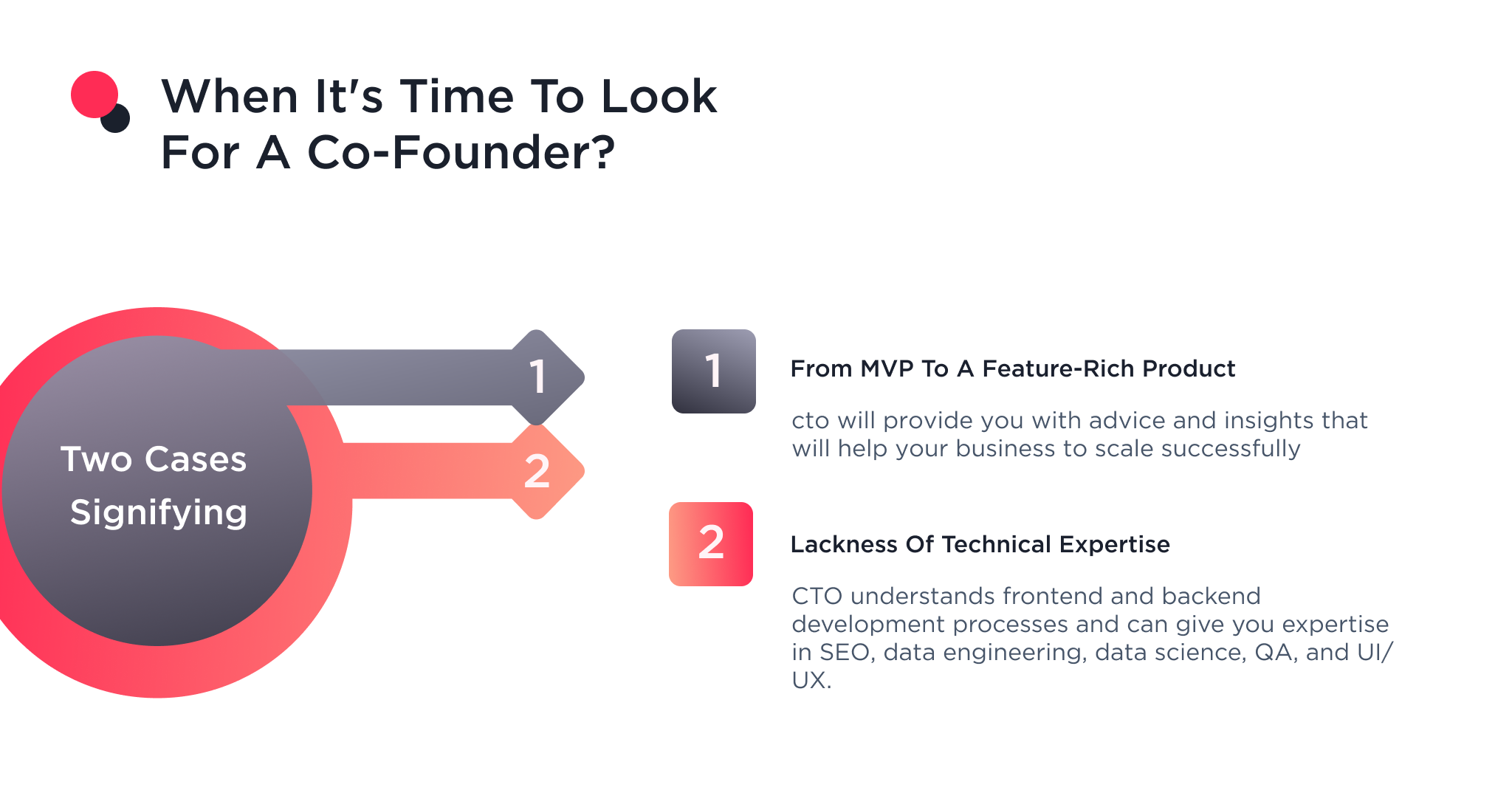 Now that you know when exactly to hire a CTO, you're probably more curious about the specifics of the roles they'll play. Let's discuss this.
What Role Does a CTO Play?
A chief technology officer in a startup is an individual responsible for mapping the organization's technical strategy, drafting the architecture of your solutions, choosing tech stacks, and managing the development and maintenance team.
To provide you with an in-depth knowledge of what they actually do, we'll break down the roles into the following.
| | |
| --- | --- |
| Task | Description |
| People and process manager | Just like other C-level team members, they manage team members and map out their workflow.One example of the process it can manage is mobile app development which entails:Business analysis,UI/UX design,Frontend and backend development,QA testing,Product launch. |
| Technical strategy establishment | The CTO understands the company's business model and establishes the technical strategy needed to achieve that aim.For example, they guide SEO strategy for most new startups. |
| Your options curator | CTOs find options for technical impediments in the development and maintenance process. |
| | Many early-stage startups require a CTO with full-stack development knowledge and can create the product from scratch.They're primarily responsible for the overall quality of the solution. |
| IT professionals hiring and coaching | CTOs in conjunction with the human resource teams test prospects' technical skills and coach them. |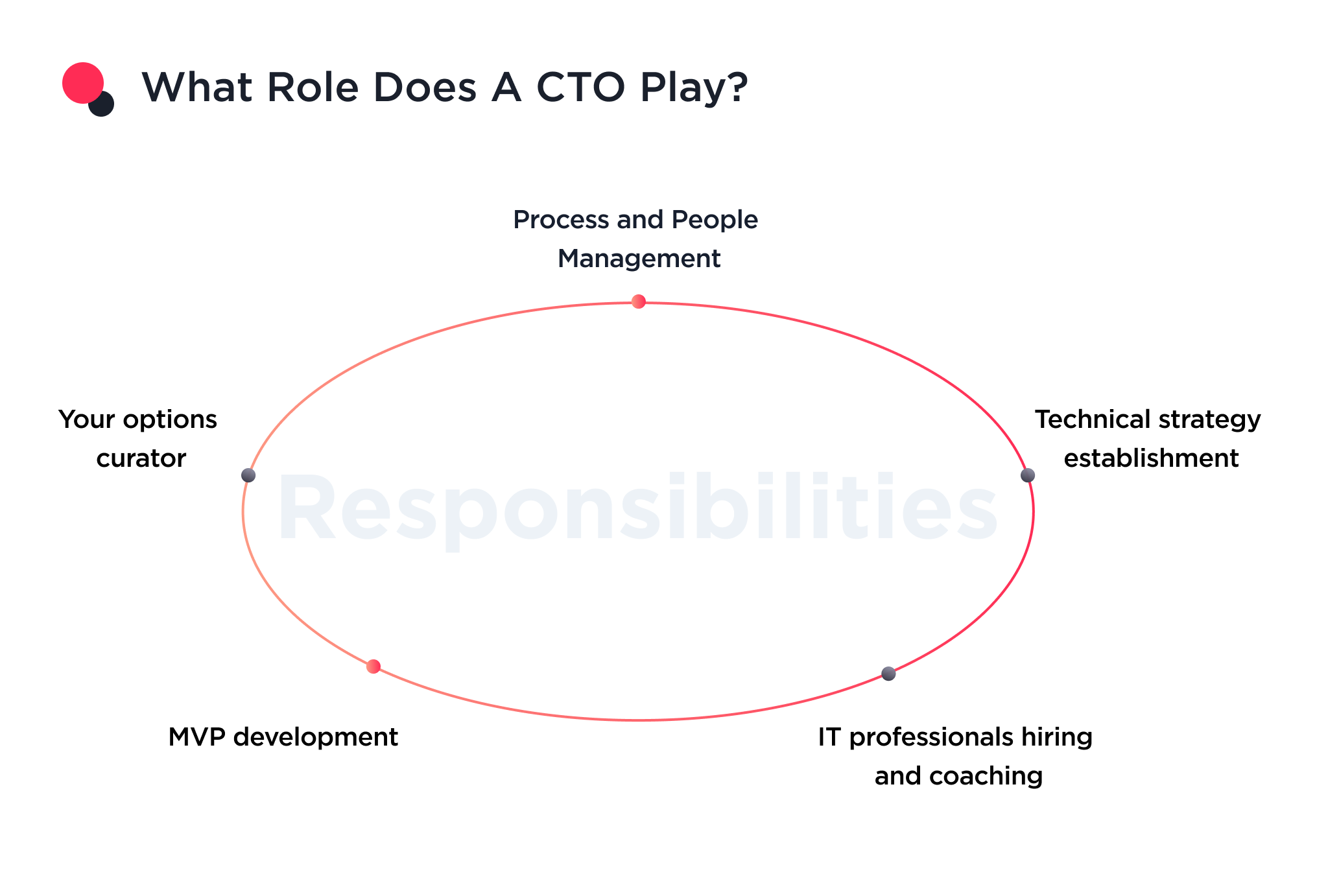 What else? Let's discuss where to find the right technical co-founder.
Where to Look for a Technical Co-Founder?
You can find suitable technical co-founders both on the internet and by referral.
You can find partners online via social media platforms, LinkedIn, search engine platforms, online meetups, online startup communities, etc.
Searching for tech co-founders offline can be cumbersome. However, you can tap into the pool of friends, Co-Founders Lab, hackathons, and referrals from business partners.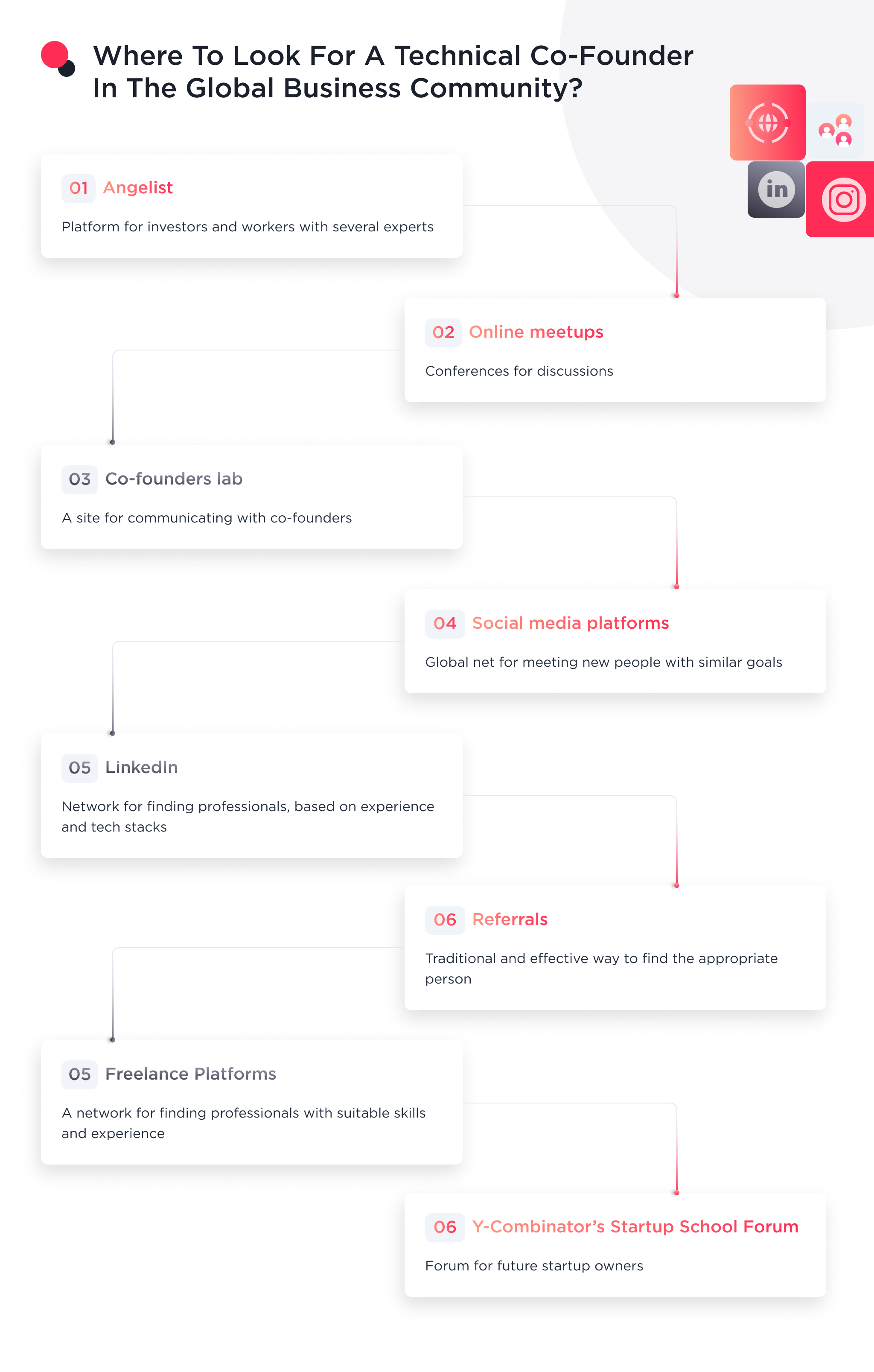 Let's provide more details on where to find tech co-founders.
| | |
| --- | --- |
| Where to Find | Description |
| | Angelist is a platform that connects startups with investors and workers.There are multiple tech experts on Angellist, some of which are open to taking CTO roles. |
| Online meetups | These are conferences held to discuss a specific subject. Examples of meetups are IndieHackers, OnlineGeniuses, and theUK Startup's Conference. |
| | This is arguably the most prominent website to meet and connect with co-founders operating in any niche. |
| Social media platforms | Social networks allow you to communicate with people, share ideas with them, and listen to their opinions.Once you do that, you can know if a prospective co-founder is fit for your idea. |
| LinkedIn | LinkedIn is a network for professionals to connect with themselves and organizations.You can search for professionals based on experience and tech stacks to communicate with one who best suits your startup's needs. |
| Referrals | Over 40% of human resource additions happen via referrals.This is a traditional, effective way of finding talents for organizations.You can ask within your circle of influence for referrals on highly experienced and talented technical experts.Speak with them, and see if they're willing to join your company. |
| Freelance Platforms | You can find technical co-founders on freelance platforms like Upwork, Fiverr, etc.Before asking them to join as a co-founder, check their reviews, vet their skills, and ensure that they're passionate about your idea. |
| Y-Combinator's Startup School Forum | This is a forum for individuals interested in owning a startup, and are keen on learning something via Startup School.You can easily find a suitable co-founder by approaching a person of interest on the site. |
Once you find a technical co-founder with the right skill sets, what else? Let's delve right into that.
How to Choose a Technical Co-Founder?
To choose the right partner as a non-technical co-founder, ensure that you stick with these steps:
To read more click on the following link : https://spdload.com/blog/how-to-find-a-technical-co-founder/